H Beam Welding Machine
---
H Beam Welding Machine (Assembling, Welding & Straightening Intergrated Line)
The H Beam Assembling welding and straightening integral machine is a special machine which can make direct assembling, welding, and straightening for the H-beam flange and web plate. It combines the working procedures of assembling machine, gantry welding machine, and straightening machine into one machine, which makes visible higher production efficiency, lower machine cost, and smaller space. Thus it is a high-efficient machine for H-beam and T-beam production.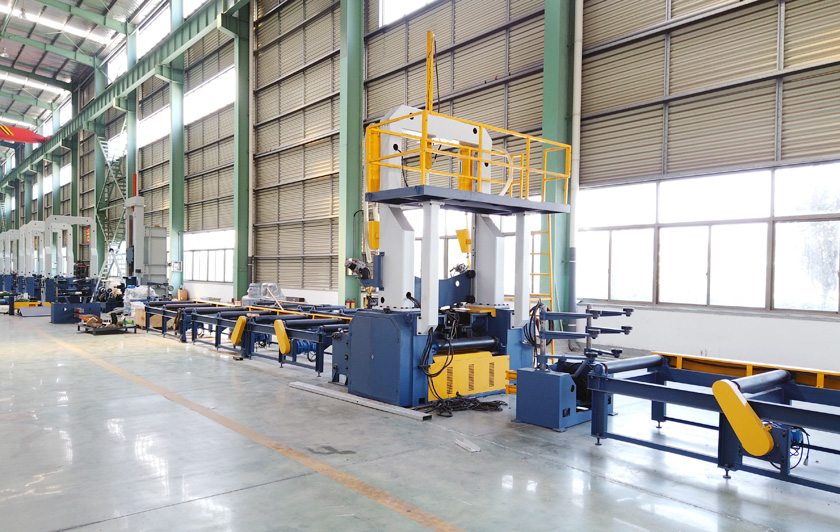 This equipment is composed by assembling and welding main machine , assistant straightening machine, pre-centering system, driving elevating roller conveyor, driving roller conveyor, idle roller conveyor, flux recycling system, hydraulic system, electrical controlling system, and welding power source etc.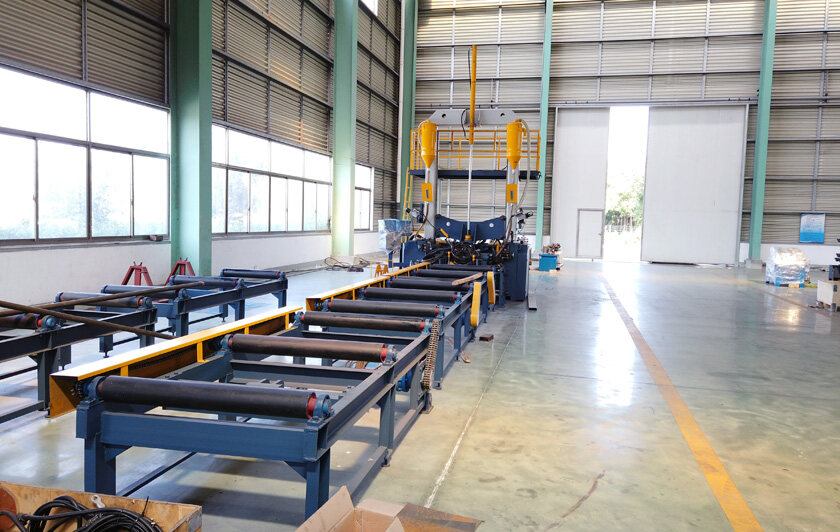 The assembling and welding main machine is composed by bottom stand, up frame, flange and web plate centering system, main transmission device, welding torch adjusting device, and conduction device etc.
The bottom stand is welding construction, on which there is flange and web plate centering device, main transmission roller, welding torch adjusting system, conduction device and up frame. On down part of the bottom stand, there is transmission axis, chain wheel, chain of main transmission system. The main transmission motor speed-reducer is assembled at the side of the machine bottom stand.
Technical Specification of H-Beam Welding Machine
| | |
| --- | --- |
| Web height | 200-1500mm |
| Web thickness | 6-14mm |
| Flange width | 200-800mm |
| Flange thickness | 6-40mm |
| Work-piece length | 6000-12000m |
| Assembling and welding speed | 0.35-3 m/min |
| Main machine power | 3 Kw |
| Roller conveyor motor power | 6 Kw |
| Pump station power | 4 Kw |
| Welding source power | 138 Kw |